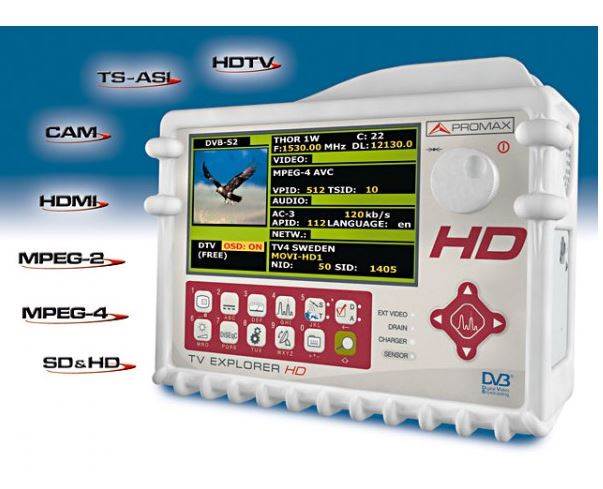 Miernik PROMAX TV EXPLORER HD
Cena brutto: 24100,00 zł
Cena netto: 19593,50 zł
Opis:
TV EXPLORER HD - uniwersalny przyrząd przy instalacjiwszystkich sieci (S, S2, C, T, H). Faktyczny miernik sygnałów HDTV, podgląd programów HD (również kodowanych CAM), wewnętrzny dekoder H.264, wejście/ wyjście TS-ASI, złącze HDMI
Charakterystyka:
DANE TECHNICZNE TV EXPLORER HD
GENERAL
· Frequency margin Continuous tuning from 5 to 1000 MHz and from 950 to 2150 MHz
· Tuning modes Chanel or frequency (IF or downlink at satellite band)
· Channel plan Configurable on demand
· Resolution
· 5-1000 MHz 50 kHz
· 950-2150 MHz < 200 kHz (span FULL-500-200-100-50-32-16 MHz)
· Automatic search (Explorer) Threshold level selectable. DVB-T/H, DVB-C and DVB-S2 selection
· Analogue and digital signal identification Automatic
· Transport Stream parameters identifying Detection of Audio and video bitrate, Network ID and Service list
VIDEO
· Digital modulations DVB-T, DVB-H, DVB-S, DVB-S2, DVB-C
· Resolutions 1080i, 720p, 576i
· Video formats MPEG-2, MPEG-4 H.264
· Colour system PAL, NTSC, SECAM
· TV standard M, N, B, G, I, D, K and L
· Aspect ratio 16:9, 4:3
· RF INPUT
· Impedance 75 Ω
· Connector Universal, with BNC or F adapter
· Maximum signal 130 dBµV
· Maximum input voltage
· DC to 100 Hz 50 V rms (powered by the AL-103 power charger)
· 30 V rms (not powered by the AL-103 power charger)
· 5 MHz to 2150 MHz 130 dBµV
DIGITAL MEASUREMENTS Numeric and level bar
· DVB-T/H (COFDM) Power, CBER, VBER, MER, C/N and Noise margin
· DVB-C (QAM) Power, BER, MER, C/N and Noise margin
· DVB-S (QPSK) Power, CBER, VBER, MER, C/N and Noise margin
· DVB-S2 (QPSK/8PSK) Link Margin, Power, CBER, LBER, MER, C/N and Noise margin
ANALOGUE MEASUREMENTS
· Terrestrial bands Level, V/A ratio, C/N ratio and FM deviation and demodulation
· Satellite bands Level and C/N ratio
· ADVANCED FUNCTIONS Constellation diagram for DVB-T/H, DVB-C, DVB-S and DVB-S2
· Echoes analyser mode
· Built-in spectrum analyser with direct access keys
· Datalogger (measurements automatic acquisition and storage) for digital and analogue channels
· SAT IF test (IF distribution network response for satellite band)
· Attenuation test function (signal distribution network response for terrestrial band)
· DiSEqC generator and LNB supply
· Audio and Video recording and playing
CONNECTIONS
· SCART, HDMI, TS-ASI (input and output), USB, Common Interface
MECHANICAL FEATURES
· Dimensions 230 (W.) x 161 (H.) x 76 (D.) mm.
· Total size: 2,814 cm3
· Weight 2.2 kg (without holster)